FREE PUMP REPAIR ESTIMATE*
Call our service department at 1-877-824-7763 x 120 to discuss ETS Co repairing your pressure washer pump. Ship it to us via UPS /FedEX (trackable service) **, ETS will estimate your pump, call you for repair approval and ship it back to you.
* Estimate is free to customers who choose to have ETS Co. Repair their pump
** Customers are responsible for shipping costs to and from ETS Co.
_____________________________________________________________________________________
ETS offers Pressure Washer Service on virtually ALL brands (ALL makes and models) of pressure washers, steam cleaners and pressure washer pumps to the Delaware Valley. We service brands like LANDA, Mi-T-M, Jenny, epps, Kranzle, CAT PUMPS, General Pump, Giant Pump, Comet Pump and more! (We also carry Pressure Washer Pump Parts – Click here) Call today at 610-583-7657!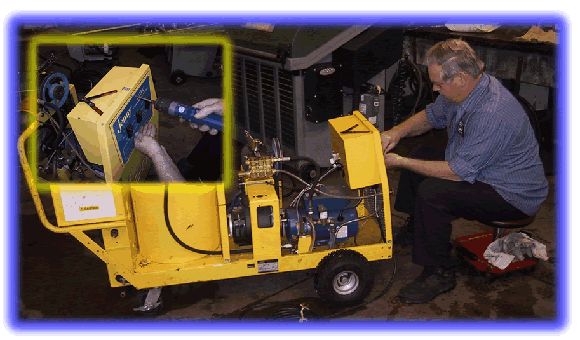 ETS DETERGENT DELIVERY PROGRAM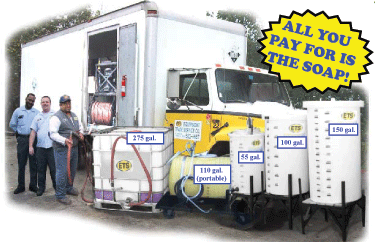 If you are local to us (PA, NJ, DE) and you need cleaning products on demand, delivered to your point of use at great prices then you can take advantage of thr ETS Co. Detergent delivery program.

Click here for more information
AUTOMATED INDUSTRIAL DETERGENTS PUMPED & METER DELIVERED TO YOU!
1) We install a tank at your location on loan for FREE!
2) We maintain and fill the tank with regular scheduled deliveries!
3) You reap the safety and savings!
Great cleaning chemicals and FREE delivery!
For more details,
Call 610-583-7657.
DON'T USE AT LEAST 30 GALLONS OF DETERGENT PER MONTH
BUT STILL WANT TO TAKE ADVANTAGE OF OUR DETERGENT DELIVERY SYSTEM PRICING?
SAVE UP TO 61% ON MINI-BULK TANK WITH DETERGENT!

GET THE SAME LOW PRICES AS OUR LARGE BULK CHEMICAL CUSTOMERS!

JUST ONE PURCHASE OF OUR MINI-BULK TANK AND YOUR IN THE PROGRAM!
GREAT FOR ALL CONTRACT CLEANERS!
Call 610-583-7657 or click here for more information !