SKID MOUNT PRESSURE WASHER TRAILER
Trailer Skid A Versatile, Portable Mobile Wash System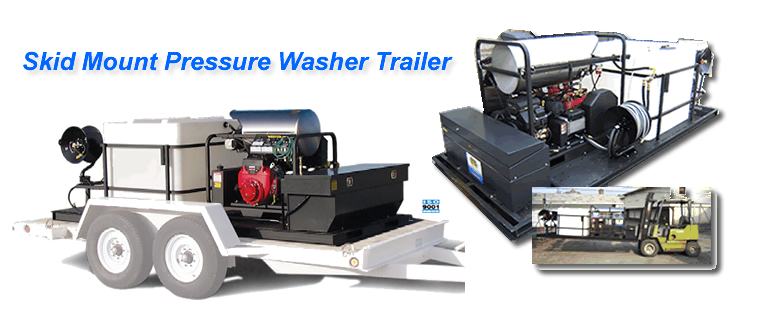 CALL TO CUSTOMIZE THIS TRAILER TO YOUR PRESSURE WASHING NEEDS!
1-877-824-7763 STARTING A POWER WASH BUSINESS? CALL FOR HELP!
Features:

144"L x 60"W x 46"H


300 Gal. Poly-Tank


Pre-Drilled for Many Pressure Washer Models


Mount on Tandem-Axle Trailer, Flatbed Truck, Rail Car etc.

White, 300-gallon, squareshaped Water Tank is made of highdensity polyethylene so it is resilient to expansion when filled with water but translucent enough to monitor the water level.

Rugged Steel Cage holds the water tank snugly into place and is made of 11/4-inch steel tubing. It is a single, welded piece for added durability and has rounded corners for safety. An extension of the cage creates a Detergent Jug Holder, including V-bars for convenience in strapping down the jugs.

Light-weight and vented, screw-on Water Tank Lid makes for easy access to the tank. It's tethered to the tank with a polyester cord to keep it from getting misplaced.

Many features make the Trailer Skid Option-Ready including holders for Work Lamps, a platform that has been Pre-Drilled for quickly mounting a variety of pressure washer models, Mounting Brackets for hose reels and pre-drilled Anchor Holes for securing the platform to the trailer or vehicle.

Optional Tool Box & 50-Gallon Fuel Tank is made of 14 gauge steel and mounts on the front of the platform for easy access to tools. It is lockable with safety struts on the lid. The fuel tank has quick-connect capability to provide hours of uninterrupted pressure washing.

Easy-access, 11/2-inch Drain Valve empties water tank quickly with the turn of a handle. It's located near the curb-side of the platform for convenience in attaching a drain hose.

Inline, 50-mesh, stainless steel Filter is part of the built-in water flow protection that includes a Float Valve assembly inside the water tank to prevent overfilling and overflowing.

Extra-durable Platform made of C-4 channel steel with sixteen precisely positioned 10-gauge cross beams for support of up to 4000 lbs. The tank and pressure washer placement are further reinforced by a 3/16-inch steel platform.

Totally Pre-Plumbed for quick make-ready and easy operation of mobile wash system. Configured to switch easily between water from a nearby spigot or from the water tank.

A single forklift can hoist and move the Trailer Skid so it can be placed on a tandem-axle trailer with a minimum bed size of 12 x 5 ft.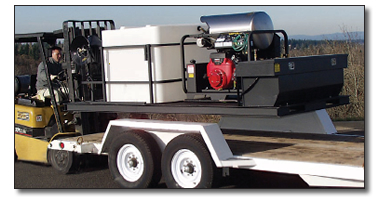 CPS30005VHR Cold Mobile Pressure Washer Skid
CPS40005VHR Cold Mobile Pressure Washer Skid

The CPS30005VHR Cold Mobile Pressure Washer Skid Series is a rugged cold water skid built to tackle the toughest jobs. A heavy gauge powder coated steel frame protects vital components and a smooth running twin cylinder engine, with low oil shutdown, ensures a long life of industrial use. Low RPM belt drive pump runs cooler and quieter and is ideal for use when drawing water from a tank. A 4 gallon fuel tank allows for long run times between fill ups, and its remote location away from the engine provides for safe refueling that reduces the risk of fire from fuel spills. Flexible mounting options, you choose your level of portability: on a trailer or tank skid, on wheels, or stationary. Requires group U1 235 CCA battery, not included. Dimensions: 32"Lx24"Wx27"H

The CPS40005VHR Cold Mobile Pressure Washer Skid Series is a rugged cold water skid built to tackle the toughest jobs. A heavy gauge powder coated steel frame protects vital components and a smooth running twin cylinder engine, with low oil shutdown, ensures a long life of industrial use. Low RPM belt drive pump runs cooler and quieter and is ideal for use when drawing water from a tank. A 4 gallon fuel tank allows for long run times between fill ups, and its remote location away from the engine provides for safe refueling that reduces the risk of fire from fuel spills. Flexible mounting options, you choose your level of portability: on a trailer or tank skid, on wheels, or stationary. Requires group U1 235 CCA battery, not included. Dimensions: 32"Lx24"Wx27"H

SK40005VH Hot Mobile Pressure Washer Skid
T270TW – 270 Gallon Skid with CPS40005VHR Cold Pressure Washer and Reels

The SK40005VH Hot Mobile Pressure Washer Skid is a truly versatile machine. It can be trailer or truck mounted or installed on a wheel kit to work for you, right where you need it. An efficient twincylinder,OHV, electric-start Vanguard engine provides power to the pump and 12V diesel burner, no electricity needed for this power washer. The stainless steel wrapped ½" SCH 80 coil heats the water up to 250°F. You will experience extended run times with the large 8.0 gallon gas and diesel tanks. An industrial rated, belt-drive pump turns at lower RPM resulting in a cooler running and longer lasting pump.Burst disc for operator safety, a pressure relief valve, and a nonintegrated unloader are also included in the industrial duty SK Series. Requires group U1 235 CCA battery, not included. Dimensions: 39"Lx27"Wx45"H

A 270 Gallon Skid with Reels
12-gauge powder coated frame

CPS40005VHR  Cold  Mobile Pressure Washer Skid
4000 PSI
4.8 GPM
Diesel Fired

**This item requires California sales tax to be added to California deliveries.**

SK30004DH Hot Mobile Pressure Washer Skid
T185TW – 200 Gallon Skid with SK30005VH Hot Pressure Washer and Reels

The SK30004DH Hot Mobile Pressure Washer Skid is a truly versatile machine. It can be trailer or truck mounted or installed on a wheel kit to work for you, right where you need it. An efficient twincylinder,OHV, electric-start Vanguard engine provides power to the pump and 12V diesel burner, no electricity needed for this power washer. The stainless steel wrapped ½" SCH 80 coil heats the water up to 250°F. You will experience extended run times with the large 8.0 gallon gas and diesel tanks. An industrial rated, belt-drive pump turns at lower RPM resulting in a cooler running and longer lasting pump.Burst disc for operator safety, a pressure relief valve, and a nonintegrated unloader are also included in the industrial duty SK Series. Requires group U1 235 CCA battery, not included. Dimensions: 39"Lx27"Wx45"H

A 200 Gallon Skid with Reels
12-gauge powder coated frame

SK30005VH Hot Mobile Pressure Washer Skid
3000 PSI
5.0 GPM
Diesel Fired

**This item requires California sales tax to be added to California deliveries.**
**Sorry, no free freight to Texas.  please e-mail us at [email protected] for details and pricing for rates**

T270TW – 270 Gallon Skid with SK30005VH Hot Pressure Washer and Reels
T185TW – 200 Gallon Skid with SK40005VH Hot Pressure Washer and Reels
A 270 Gallon Skid with Reels
12-gauge powder coated frame

SK30005VH Hot Mobile Pressure Washer Skid
3000 PSI
5.0 GPM
Diesel Fired

**This item requires California sales tax to be added to California deliveries.**
**Sorry, no free freight to Texas.  Please please e-mail us at [email protected] for details and pricing**

A 200 Gallon Skid with Reels
12-gauge powder coated frame

SKSK40005VH Hot Mobile Pressure Washer Wash Skid
4000 PSI
4.8 GPM
Diesel Fired

**This item requires California sales tax to be added to California deliveries.**
**Sorry, no free freight to Texas. please e-mail us at [email protected] for details and pricing for rates**

T270TW – 270 Gallon Skid with SK40005VH Hot Pressure Washer and reels
A 270 Gallon Skid with Reels
12-gauge powder coated frame

SK40005VH Hot Mobile Pressure Washer Skid
4000 PSI
4.8 GPM
Diesel Fired

**This item requires California sales tax to be added to California deliveries.**
**Sorry, no free freight to Texas.  Please please e-mail us at [email protected] for details and pricing**