Click below to go to one of our pressure washer pages

Hot Pressure Washers
Cold Pressure Washers
Steam Jenny Pressure Washers
OPTIMA STEAM CLEANER
BE Pressure Washers
Mi-T-M Pressure Washers
DirtKiller Pressure Washers
GumBusters – Gum Removal System
Hot2Go Pressure Washers
Water Pumps
Portable Generators
Portable Heaters
Let Pressure Washers Make Your Fleet Shine
It's no secret that fleets of cars, trucks and other vehicles face a lot more dust and debris than other vehicles. Long distance driving itself can bring about a host of cleaning problems. Trucks that carry cargo that can accumulate stubborn stains.
Pressure washers are a cleaning option that can tackle the huge job of getting a fleet of cars, trucks and heavy vehicles clean and ready for use. Apart from that, pressure washers often do a better cleaning job than other conventional cleaning methods can.
Why Pressure Washers?
There are a number of different reasons why pressure washers are a more effective cleaning option. They combine high temperatures, high pressure levels, and high flow rates for maximum in cleaning capabilities. The result of using such powerful pressure washers  is a quickly and thoroughly cleaned fleet.
Before investing in any pressure washers, it's also important to do an assessment of what your cleaning needs are. This should be determined by the kind of vehicles that need to be cleaned and their components, for instance, if you're planning on cleaning more sensitive areas, like the exterior, it would be best to opt for pressure washers with a lower pressure level and flow rate.
Finally, it's important to be aware of the need for high-quality pressure washing machines. Many people opt for lower quality, less expensive equipment because they feel these machines will work just as well as high quality pressure washers. This just isn't true- while both of them seem to be for the same job, industrial pressure washing units comprised of high quality components will sustain high levels of power to complete the extended job of fleet cleaning.
Your Options
When it comes to pressure washers for jobs involving grease, opting for a heated pressure washer is usually a better choice. Vehicle fleets will often have a range of stubborn deposits on the body, windows, and other areas that can be difficult to remove. These could be things like hardened grease stains, tar or natural products like tree sap and bugs. Hot pressure washers use the added advantage of high temperatures to loosen and dissolve hard-to-remove deposits. Steam temperatures, however, provide enhanced cleaning power due to higher temperatures capable of more readily dissolving and softening heavy residues.
Best of all, this can be done without damaging the paint job of the vehicle – other cleaning methods, like using brushes or chemicals can leave behind scratches or cause discoloration.
Another thing you need to consider when washing fleets of cars, trucks and heavy vehicles is water runoff. Bear in mind that you could be slapped with hefty fines if cleaning causes too much water to flow into storm drains. Here too, pressure washers can be helpful as a number of them are available with lower flow rates. This can not only save you on water, it can also help avoid damaging your vehicles while cleaning.
Cleaning a fleet of cars, heavy vehicles and trucks is no small task. But relying on pressure washers to help you with the job can make the entire task much easier and efficient. Not only that, your vehicles will be much cleaner than vehicles cleaned using other cleaning methods when compared.
WHAT IS A PRESSURE WASHER
A pressure washer is a mechanical sprayer that, depending on nozzle size, can be used as a low volume high-pressure water cleaner or a high volume low pressure water cleaner to remove loose paint, mold, grime, dust, mud, and dirt from surfaces and objects such as buildings, vehicles, and concrete road surfaces. Machines that produces pressures from 750 to 30,000 psi (50 to 1,200 bar), or more, are available. A pressure washer differs from a parts washer in that a parts washer typically uses high-volume, lower-pressure (20-150 psi, 1.4-10 bar) cleaning solutions in an enclosed cabinet to clean dirty parts. The impact pressure generated in a parts washer is typically higher than a pressure washer.[citation needed] Additionally, the environmental issues in an enclosed parts washer are less because all of the solution is contained unlike a pressure washer.
The basic pressure washer consists of:
• An electric motor or gasoline (petrol) engine that directly drives a water pump
• A high-pressure hose
• Trigger gun-style switch
Just as a garden hose nozzle is used to increase the velocity of the liquid, a pressure washer adds its own power to create high pressure and velocity. The pump cannot draw more water from the pipe to which the washer is connected than that source can provide. Moreover, the water supply must be adequate for a given machine connected to it, as water starvation leads to cavitation damage of the pump elements.
Several different types of nozzles are available, each useful for a particular application. Some nozzles cause the water jet to be ejected in a triangular plane (fan pattern), while others emit a thin jet of water, which spirals around rapidly (cone pattern). Nozzles that deliver a higher flow rate lower the output pressure. High volume low pressure (HVLP) cleaning usually does less damage the surface being cleaned and is preferable for outdoor surfaces that must be cleaned repeatedly, including concrete, wood, paint, or roofing materials.[1] Most nozzles attach directly to the trigger gun.
Some pressure washers, in combination with a particular nozzle, allow detergent to be introduced into the water stream, assisting in the cleaning process. Two types of chemical injectors are available — a low-pressure injector that introduces the chemical after the water leaves the pump (a downstream injector) and a high-pressure injector that introduces the chemical before water enters the pump (an upstream injector). The type of injector used is related to the type of detergent used, as there are many chemicals that will damage a pump if an upstream injector is used.
Pressure washers are dangerous tools and should be operated with due regard to safety instructions. The water pressure near the nozzle is powerful enough to strip flesh from bone. Particles in the water supply are ejected from the nozzle at great velocities. The cleaning process can propel objects dislodged from the surface being cleaned, also at great velocities. Pressure washers have a tendency to break up tarmac if aimed directly at it, due to high pressure water entering cracks and voids in the surface.
Most readily available consumer units, commonly found online or at hardware stores, are electric- or petrol-powered. The electric ones plug into a normal outlet, use cold tap water and typically deliver pressure up to about 2,000 psi (140 bar). Petrol powered units can often deliver twice that pressure, but due to the hazardous nature of the engine exhaust, they are unsuitable for enclosed or indoor areas. Some models can generate hot water, which can be ideal for loosening and removing oil and grease.
Uses
In its extreme high pressure form, water is used in many industrial cleaning applications requiring the removal of surface layers as well as dust-free cutting of some metals and concrete. For exterior applications, gas or propane powered pressure washers provide enhanced mobility not available in electric models, as they do not require use in proximity to an electrical outlet. However, for indoor applications, electric pressure washers produce no exhaust and are much quieter than their gas or propane powered counterparts.
High-pressure water at medium pressure, in combination with special chemicals, aids in the removal of graffiti. This process (especially when the water is hot) is used as a quick rinser of the softened graffiti. Sometimes people use a pressurized mixture of air/sand or water/sand to blast off the surface of the vandalized area, thus etching the surface and therefore making it extremely difficult for anyone to ever use high-pressure cleaning as a follow-up process. Sandblasting, when used in graffiti removals, often overcleans a surface and is capable of leaving a permanent scar on the building surface.
Types
Pressure washers are classified into following groups based on the type of fuel/energy they consume.
• Electric pressure washer
• Diesel pressure washer
• Petrol pressure washer
• Gas pressure washer
• Ultra high pressure washer
• Hydraulic high pressure washer
• High pressure steam cleaner
PRESSURE WASHER TRAILER
Three Models that can be customized to your Pressure Washing Needs!
Single Axle, Dual Axle, Skid Mount and Custom Pressure Washers!
Single Axle Pressure Washer Trailer: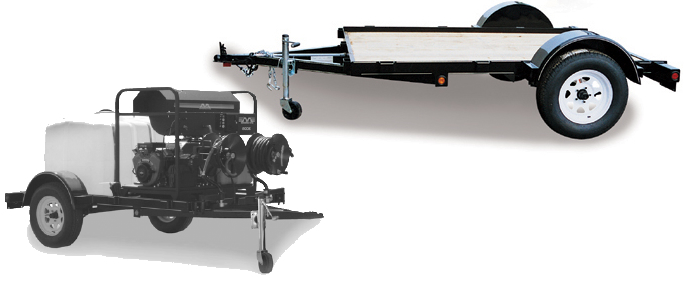 Dual Axle Pressure Washers: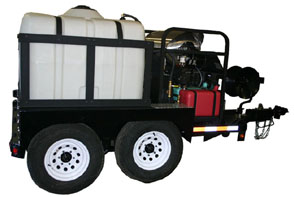 Skid Mount

Pressure Washers:

CUSTOM Pressure Washers: Only available to customers located in PA, NJ, DE & MD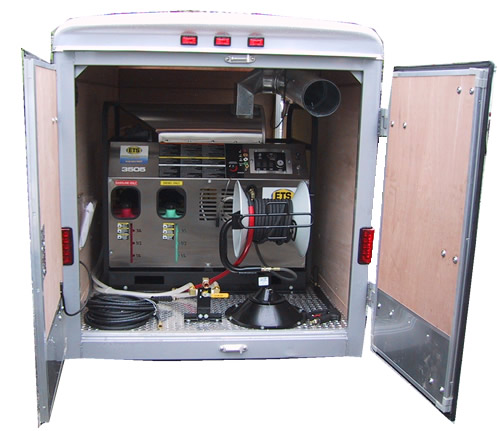 CALL TOLL FREE FOR DETAILS! 1-877-824-7763
Trailer mounted Pressure washers
Hot Pressure Washer – Gasoline / Diesel, Belt Drive
Performance-proven industrial gasoline engine or diesel engines with electric start (battery not included) (air-cooled on MNEQ-5730MORGG-000), 2500 watt generator, Belt drive triplex piston pump with ceramic plungers, Forged brass manifold with removable valve caps, Factory preset 3000 PSI—4000 PSI unloader [ spec sheet ]
3000 – 4000 PSI, 3.8 – 8.0 GPM, 16 – 25 HP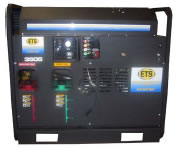 Trailer mounted Job site boxes (a.k.a. Work Box, Job Box)


Heavy-duty solid steel construction with full arc welded seams


Special powder coated finish for extreme durability


Full-length concealed hinges are riveted for additional protection and strength


Pre drilled skids for easy caster installation


Optional removable tool trays to assist tool management


Special tamper proof armored locking system for protection against break-ins


Reinforced support skids for increased protection and easy transporting


Convenient swing out handles for additional mobility


Special locking lid support locks the lid open to prevent accidental closings
Model
No.

Cubic
Feet

Box
Dimensions (LxWxH)

Ship
Wt.


Net Wt

MB-3619

36
in. x 19 in. x 16 in.

83
lbs.

81
lbs.

MB-4822

48
in. x 22 in. x 22 in.

128
lbs.

123
lbs.

MB-4830

48
in. x 30 in. x 30 in.

174
lbs.

168
lbs

MB-6024

60
in. x 24 in. x 26 in.

177
lbs

169
lbs.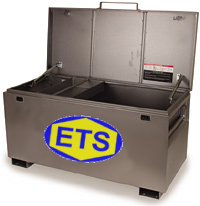 Trailer mounted Hose reel(s)
POWER WASH PIVOT HOSE REEL – 100 FT. 3/8″ CAPACITY – The workhorse of the Rapid Reel pivoting line, the 5500 Series reels offer all the Rapid Reel Industrial features, on a revolutionary pivoting base. A huge selection of brackets provides unmatched mounting versatility. Patented "Quick-Mount"Design, 5500 reels easily slide into brackets mounted on walls, carts, or the frames of portable pressure washers. You can easily move the reel to various locations – just grab and lift.

Model: 5513-PW


MSRP: $315.00, SAVE OVER $70!.


Color: Black Only


Swivel: 3/8″


Capacity: 200 ft. of 3/8″ hose


Weight: 37 lbs.


Max Pressure: 5000 PSI


Max Temp: 325°F


Warranty: 2 Years